Evaluation Monitoring for Stormwater Runoff
Water Quality Impact Assessment and Management
G. Fred Lee, PhD, PE, DEE Anne Jones-Lee, PhD
G. Fred Lee & Associates,
El Macero, CA
Problems with Conventional Stormwater Runoff Water Quality Monitoring in Defining Pollution and Pollutants
Need for, and Characteristics of, Evaluation Monitoring
Upper Newport Bay Tributary Toxicity Studies
___________________
Presented at Society of Environmental Toxicology & Chemistry 18th Annual Meeting, San Francisco, CA, November (1997)
Orange County Area Highway Stormwater Runoff
Chemical Characteristics Caltrans District 8 & 12 (1994)
Parameter

Detection Units

Chapman Ave
(I-5, PM34.7)

Walnut Ave
(SR-55, PM14.2)

Total Suspended Solids

mg/l

85

100

Total Dissolved Solids

mg/l

12

12

Chemical Oxygen Demand

mg/l

42

24

Oil and Grease

mg/l

5.3

2.5

Fecal Coliform

ml

< 2/100

50/100

pH

unit

7.0

9.1

Total Residual Chlorine

mg/l

0.45

< 0.20

Nitrate

mg/l

0.43

0.37

Nitrite

mg/l

0.051

0.042

Ammonia

mg/l

1.3

0.9

Total Kjeldahl Nitrogen

mg/l

0.89

1.4

Total Phosphorus

m

g/l

120

130

Dissolved Phosphorus

m

g/

130

120

Sodium

m

g/

3000

1600

Cadmium

m

g/

< 5

8

Copper

m

g/

24

22

Lead

m

g/

48

160

Chromium

m

g/

< 10

< 10

Zinc

m

g/

180

140

Iron

m

g/

3400

3400

Nickel

m

g/

< 32

< 32

Magnesium

m

g/

1300

1300
Conventional Water Quality Monitoring - Management Approach
"Compliance Monitoring"
Focus of Conventional Approach Is Control of Chemicals in Discharge to Achieve Allowed Concentrations (Loads)
Conventional Chemical Approach Not Technically Valid for Stormwater Runoff - Leads to Over-Regulation and Waste of Funds and/or Under-Regulation of Unregulated Constituents
Purpose of Monitoring
Compliance Monitoring to Meet Discharge Conditions
Water Quality Problem Definition
Water Quality/Use-Impairment

Not a List of Chemical Concentrations Relative to Water Quality Standards
Must Focus Monitoring Resources on Chemical Impacts, Not Chemical Concentrations
Evaluation of the Impact of
Potentially Toxic Chemicals
Given 20 µg/L of Cu in Discharge/Runoff with the Water Quality Standard of 15 µg/L:
What Can Be Said about the Water Quality/Use-Impairment of the Receiving Waters Due to the Cu in the Discharge/Runoff?

Nothing

Need Site-Specific Evaluations of Possible Cu Impacts on Water Quality
Same Type of Problem Exists with Respect to Evaluating the Water Quality Significance of a Cu Exceedance of a Water Quality Standard in Ambient Waters
What Can Be Said about the Water Quality Impacts of Cu in a Waterbody at 20 µg/L When the Standard Is 15 µg/L?
Potential Water Quality Impact Due to Cu Toxicity

Impact Cannot Be Assessed Based on Chemical Measurements

Must Use Biological Effects-Based Approaches i.e., Toxicity Measurements to Determine if the Cu Is Toxic
Evaluation of the Impact of
Potentially Bioaccumulatable Chemicals
Given Hg at 30 ng/L in a Waterbody with a Hg Bioaccumulation-Based Standard of 12 ng/L:
What Can Be Said about the Amount of Bioaccumulation of Hg in Fish?
All That Can Be Said Is That Hg at 30 ng/L Could Bioaccumulate to Excessive Concentrations in Fish

Many Examples Where the Predicted Bioaccumulation Does Not Occur

Need Site-Specific Fish Tissue Analysis to Determine if Excessive Hg Bioaccumulation Is Occurring
US EPA Water Pollution Control Program for
Toxicity and Bioaccumulation
Focused on Chemical Concentrations
Water Pollution Control Program Should Be Focused on Chemical Impacts, Not Chemicals
Current Approach Bureaucratically Simple to Administer, but Often Technically Invalid

Tends to Over-Regulate Those Constituents for Which There Are Water Quality Criteria/Standards

Does Not Address the Vast Arena of Unregulated or Under-Regulated Chemicals Such as the Organophosphate Pesticides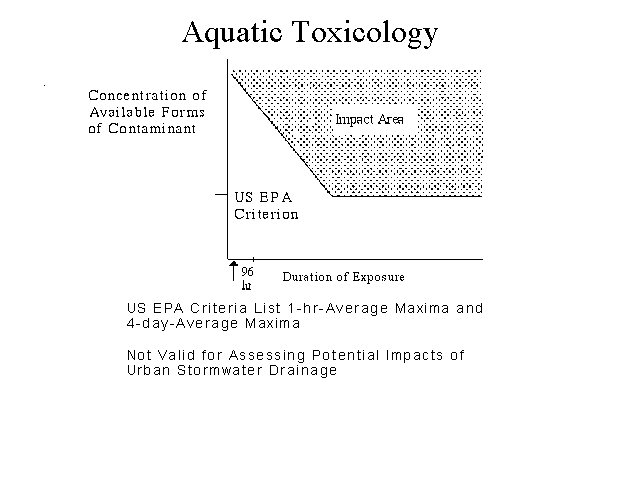 Factors That Must Be Evaluated
in Translating Stormwater Runoff Concentrations
of Potentially Toxic Chemicals
to Receiving Water Aquatic Life Impacts
Runoff Waters
Concentration/Duration Profile of Potential Pollutants during Runoff Event
Analytical Chemistry of the Measurement Procedures Used
Forms of the Chemical Constituent That Are Measured in the Chemical Test Relative to the Forms That Are Adverse to Aquatic Life
Hydrologic Characteristics of the Runoff Event
Receiving Waters
Physical Factors
Currents, Tides, Mixing/Dispersion, Density Differences between Runoff and Ambient Waters

Transport/Advection

Temperature, Sunlight Penetration, etc.
Chemical Factors
Ambient Water Concentration of Toxic/Available Forms of Constituent

Aquatic Chemistry

Chemical Kinetics and Thermodynamics of Possible Chemical Transformations/Reactions

Other Chemicals in Receiving Waters
Biological Factors
Types of Organisms Present and Their Sensitivity to the Chemical of Concern

Locomotion, Diel Migration, Attraction/Avoidance to the Discharge

Concentration of Chemical/Duration of Exposure Relationship in the Ambient Waters for Potentially Impacted Organisms Relative to the Critical Concentration/Exposure Relationship for the Organisms Exposed

Importance of the Impacted Organisms to Water Quality and the Ecosystem/Ecosystem Health
Conclusions
Conventional Water Quality Monitoring Provides Limited Information on Water Quality Impacts of Stormwater Runoff-Associated Chemical Constituents
Should Shift Monitoring Resources from End-of-the-Pipe / End-of-the-Pavement, Periodic Monitoring of a Suite of Chemicals to Evaluation of Receiving-Water Chemical Impact
Focus on Event-Based Monitoring Such as during Runoff Events

Far More Reliable and Cost-Effective for Defining Pollution and Pollutants
Evaluation Monitoring Provides a Technically Valid Basis for Cost-Effective Pollution Control
Evaluation Monitoring Is a Readily Implementable Approach That Can:
Define the Real Water Quality/Use-Impairments in Receiving Waters for Stormwater Runoff

Determine the Water Quality Significance of the Use-Impairments

Determine the Source of the Constituents Responsible for the Use-Impairments

Provide a Technically Valid Basis for Formulating Cost-Effective Pollution Control Programs
Reference as:"Lee, G.F. and Jones-Lee, A., 'Evaluation Monitoring for Stormwater Runoff Water Quality Impact Assessment and Management,' Presented at Society of Environmental Toxicology & Chemistry 18th Annual Meeting, San Francisco, CA, November (1997)."